Skip to Content
When Health Depends on Reliable HMI Solutions
Medical device HMI technology accounts for more than 50% of our business, making this market not just an emphasis for SSI Electronics, but a priority. There is perhaps no other industry where the stakes are higher, making our extensive experience and expertise in designing and manufacturing medical interface solutions invaluable.
SSI has been designing and manufacturing HMI devices for the medical industry since our company's inception in 1983. Our experience in medical interface solutions helps us better understand the scrutiny that our customers' products endure, and prepares us to develop the most effective and reliable products for this challenging environment. Request a quote for your custom medical HMI solution. Request a quote for your custom medical HMI solution, or contact SSI at 800-866-8510 to discuss your project.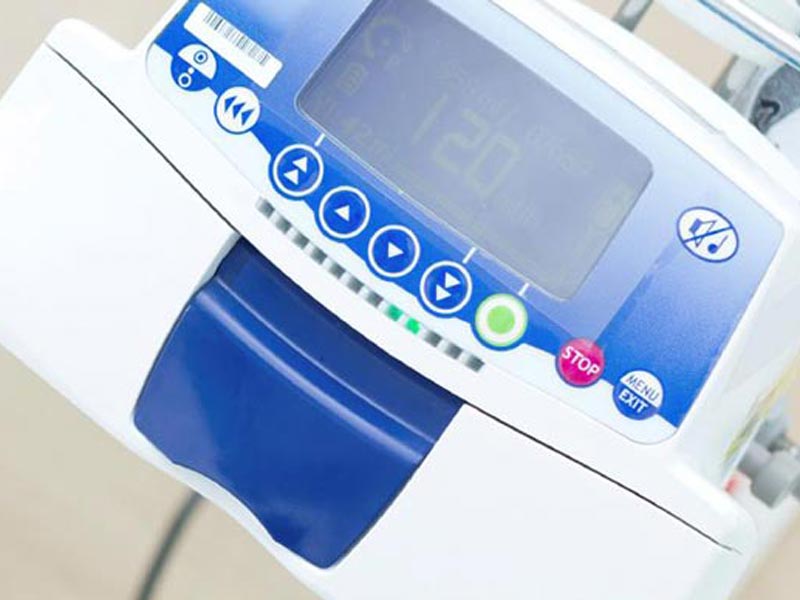 Medical HMI Solutions for All Applications
SSI develops complete interface devices, from membrane switches to custom touch screen solutions. We have provided human-machine interface products for countless medical applications, including, but not limited to:
Emergency call buttons
Patient monitoring systems
Surgical equipment
Staff communications devices
Drug delivery systems
Hospital beds
IV pumps
Analytical equipment
Feeding pumps
Download our medical brochure for more information.
Why Medical Device OEMs Choose SSI Interface Products
Ease of Cleaning, Wipedown & Sterilization
Preventing the possibility of infection caused by the medical environment is of critical importance. Because HMIs get touched and handled so often, they can often be a prime contamination source. This makes the ability to easily wipe down and sterilize medical interface equipment a key factor in mitigating infection risks. With decades of experience in this market, SSI can provide the right technology and the right designs to ensure easy cleaning and sterilization without affecting performance.
High Chemical Resistance
It is commonplace for hospitals and medical facilities to use potent chemicals in their operations. Some materials used in medical HMIs can degrade after repeated or prolonged exposure to these chemicals. That's why SSI Electronics utilizes materials that provide both high performance and excellent resistance to harsh chemicals. Our medical interface solutions are designed for durability and reliability in even the toughest environments.
Mitigating Risk Through Quality & Regulatory Support
No other industry requires as stringent regulatory support as the medical sector, making it crucial that medical equipment manufacturers be prepared to support their customers from a quality and regulatory perspective. SSI has years of experience in helping OEMs in the medical market navigate their quality and regulatory needs, from providing complete product traceability to mitigating risks associated with the use of our products.
Visit the SSI Medical Website
Request a quote on medical HMI solutions from SSI, or contact us to discuss your unique application. You can also call us at 800-866-8510 to speak to our team directly.
Contact Our Medical Interface Experts Now!