Skip to Content
Stock Membrane Switches
After nearly 40 years of designing and manufacturing custom membrane switches, SSI Electronics now offers a full line of standard membrane switches. These membrane switches are in stock and ready to ship, with none of the design and tooling expenses often associated with products like these.
Our stock membrane switches can be used individually or joined together to create any number of keys your small-volume application requires. We offer membrane switches in numerous formats, with a variety of connector and graphic overlay options, making it easy to specify the perfect configuration for your unique needs.
Request a quote on standard membrane switches for your application. Contact SSI today to order or to learn more. Or call us at 800-866-8510 today to speak to our team directly.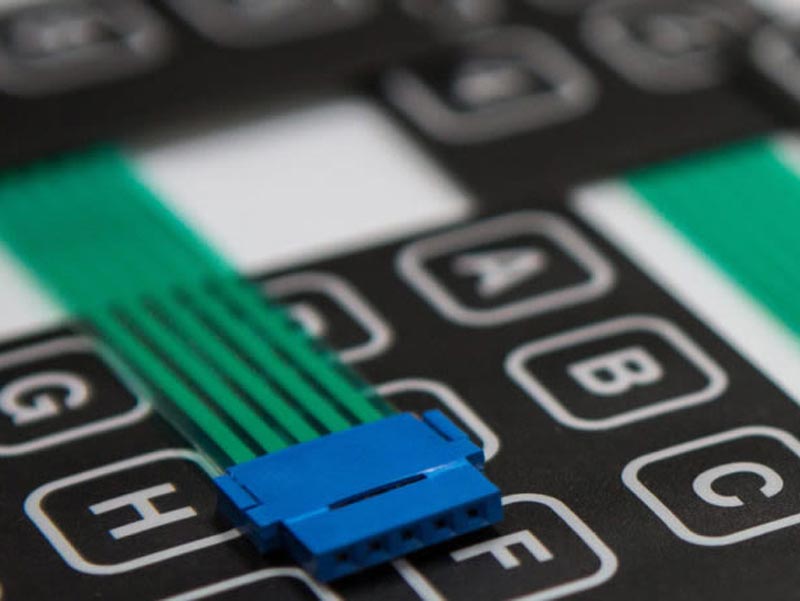 Standard Membrane Switch Formats Available
1 position membrane switches
2 position membrane switches
4 position (1×4) membrane switches
4 position (2×2) membrane switches
6 position membrane switches
8 position membrane switches
9 position membrane switches
12 position membrane switches
Standard Membrane Switch Specifications
12mm diameter stainless steel domes
Actuation force: 12-16 ounces
Closed loop resistance: <100 ohms
Life expectancy: 1 million actuations
Contact bounce: 20ms or less
Maximum voltage: 28 vDC
Maximum current: 50 mA
Maximum switch power: 1.5 watts
Operating temperature: -10° to 170°F (-23° to 77°C)
3M 467MP adhesive on front and back of switch
Membrane Switch Connector Options
Bare Tail: Interfaces to 0.100" center LIF or ZIF style connector
Female Connector, Plain: Interfaces to a 0.100" center, 0.025" square posted header
Female Connector, Latching: Interfaces to a 0.100" center latching header
Male Connector, Plain: Interfaces to a 0.100" center female header
Male Connector, Latching: Interfaces to a 0.100" center latching header
Solder Tabs: 0.100" centers; solder tabs can be directly soldered to PCB or wires
Standard Overlay Artwork Options
NOTE: Size of overlay is .020" larger on all 4 sides than switch (see above)
Overlay Options for Stock Membrane Switches
In-Stock
SSI stocks overlays in the formats shown above. These overlays have a matte finish and are printed with light gray text on a black background.
Custom
SSI can create custom overlays for your stock membrane switches by modifying standard artwork and digitally printing your customized overlays.  Design charges apply.
Customer Created
SSI can provide the standard graphic artwork in Corel Draw format. You can then edit the file, as needed, and use your inkjet printer to produce non-permanent custom overlays for standard membrane switches.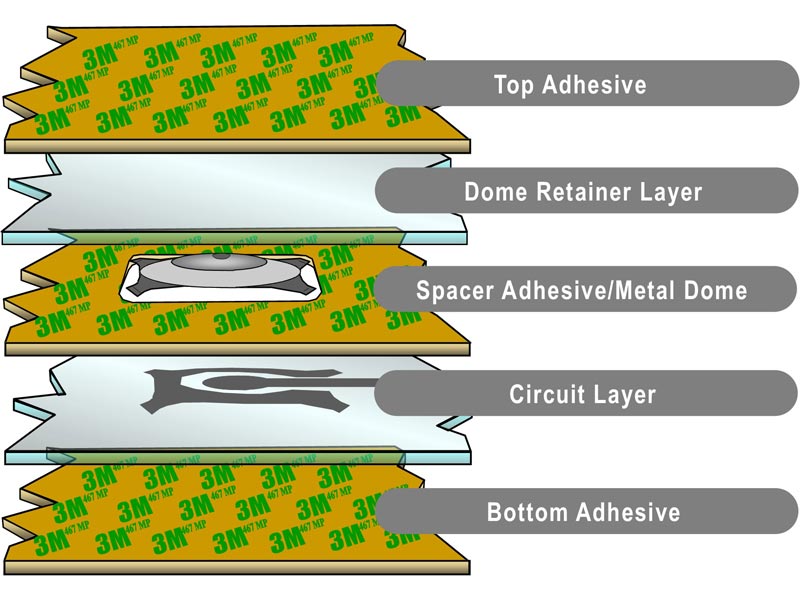 Creating Unique Configurations
Our stock membrane switches are designed to allow two or more switches to be joined together while maintaining maintain the center to center spacing (0.750") from keypad to keypad. This feature allows users to configure membrane switches with an abundance of keypad combinations.
Contact SSI for Standard Membrane Switches